A lire sur:
http://www.digitimes.com//supply_chain_window/story.asp
Intel APAC Internet of Things Day event report [Wednesday 4 December 2013]
The Internet changed our life enormously. McKinsey Global Institute recently released a report to highlight the number of connected machines has grown by three times over the past five years, due largely to the transformational power of Internet of Things (IoT) technologies and their ability to drive greater efficiency in the business world. The invention of IoT enables a new revolutionary thinking of how we look at those devices to be connected and the things we have to deal with everyday.
The first market trend to drive this change is making every device connected, or called "Everything Connected" effects. According to McKinsey Global Institute report, there were two billion devices in 2006, then 15 billion in 2015. And the projection to 2020, it will reach 50 billion units for explosive growth.

As more than 35 years Intel provided embedded solutions in the industry, more devices become connected every day, companies face increased challenges because fragmentation, interoperability and security threats. To address this, Intel is trying to deliver integrated hardware and software solutions specifically designed to meet market needs. This is the second market trend called "Compute Economics".
Along with the amount of data being generated by the immense connected devices and machines is a 10X growth in the amount of data we produce today by 2016. And most of the data is "unstructured data", meaning the information coming in from a wide variety of sources using different protocols and translations, which doesn't mean a whole lot in the context of other sources of information. It is a big demand to drive huge data process and analysis tasks. And this is the third trend "Big data and analytics".
All these three major market trends rely on Internet as an integrated platform to link mobile networking, cloud computing, big data analytics and more new solutions to drive business transformation. The true value of IoT is realized when these connected devices and sensors communicate and share data with each other and the cloud, analyzing information and transferring to applications or systems that can change our way to do the business in the world.
Intel forms new Group to accelerate business development of IoT market
The APAC Internet of Things Day seminar was held on November 11, 2013 in TICC Taipei. During the event, Intel presented several CPU product lines and solutions featuring integrated software from McAfee and Wind River applications, opening up opportunities in IoT industries with a convincing product portfolio.
Meanwhile, a new organization accelerates the business development of IoT in Intel. Called the IoT Solutions Group, this new organization will include the Intelligent Systems Group and Wind River organizations, bringing together the intelligent systems hardware, software, services and platform elements together into one organization.
Jim Robinson, General Manager of IoT Solutions Group Segments and Broad Market Division, is one of keynote speakers. He highlighted IoT implementations will across several industries including medical care, manufacturing, public transportation, retail, telecommunication, consumer electronics and energy industries in the next decade. Intel will deliver solutions for companies that are investing in technologies to both drive operating efficiencies and create new services by connecting devices to each other and the cloud to transform businesses.
Expand roadmap for IoT solutions and devices
An end-to-end strategy requires making devices more intelligent and secure to reliably filter and manage data effectively. The Intel IoT roadmap provides a scalable product lines to power devices in different network infrastructures, from the energy-efficient Intel Quark SoC to the high-performance Intel Xeon processors.
First of all, the new Intel Atom processor E3800 product family features improved media and graphics performance, error-correcting code (ECC), industrial temperature range, integrated security and integrated image signal processing. These features help reduce time-to-market, accelerate data intensive applications and reduce energy consumption. This product family is well suited for digital signage applications such as interactive kiosks, intelligent vending, ATMs and point-of-sale terminals as well as portable medical devices and in-vehicle infotainment systems.
The addition of the low-power, small-core Intel Quark SoC X1000 will extend the product lines into new and rapidly growing IoT markets. The new product family features error-correcting code (ECC), industrial temperature range and integrated security. ECC delivers a high level of data integrity, reliability and system uptime for equipment required to run at all times, while industrial temperature range helps meet the requirements for industrial control and automation applications. The Quark processor core is a 32-bit, single core, single-thread, Intel Pentium instruction set architecture (ISA) compatible CPU operating at speeds up to 400MHz. This is extremely important to Taiwan Industrial-PC vendors and automation solution providers because massively reduction of software development cost and timing.
For better assistance of engineering development, Intel released Galileo development boards to help design engineers shortening development cycles and time to market.
Connecting the old and new devices with gateway solutions
With more than 85 percent of today's devices based on existing Intel CPUs and systems, a significant need exists for an interim step to address interoperability instead of replacing all existing infrastructure. Working with McAfee and Wind River, Intel solves this question with a new family of gateway solutions that connect old systems and provide common interfaces and seamless communication between devices and the cloud. Targeting industrial, energy and transportation markets, this system of systems helps ensure that the data generated by devices and existing infrastructure can be shared securely between the cloud and devices for analysis.
The new family of new gateway solutions from Intel provides integrated and pre-validated hardware and software, including McAfee Embedded Control and the Wind River Intelligent Device Platform, that help develop, prototype and deploy application services faster so companies can focus on creating new, value-added services. With these solutions, users can securely aggregate, filter and share data from the cloud in areas such as monitoring high-value industrial assets, facilitating manufacturing automation, energy grid automation, and commercial fleet monitoring.
The first set of gateway solutions will feature versions based on the Intel Quark SoC X1000 and Atom processor E3800 product family and will be available in the first quarter of 2014.
Jim Robinson presented Westfalen Weser Energie project as a good example in the seminar to describe the applications of intelligent gateway. Intel is working with this large power and gas distribution grid operator to develop and deploy gateways in its secondary energy substations. As more renewables come online, managing energy flows becomes more complicated and Westfalen Weser Energie is using intelligent gateways to interface with its legacy devices and acquire, analyze and act on data in real-time.
Exploring intelligence in data from device to the datacenter
Intel is delivering a scalable product lines of hardware and software designed to explore the data intelligence from the device through the network to the cloud to enable new business models and service offerings. By developing horizontal building blocks for vertical end-to-end analytics as well as distributed analytics for user's systems and datacenter, Intel is enabling companies to turn big data into valuable information.
Another example of business transformation in the event is the Daikin Applied project. Daikin Applied, one of the world's largest air conditioning, heating, ventilating and refrigeration company, is using the Intel-based intelligent gateway solutions to deploy solutions for commercial HVAC equipment. Daikin Applied connects its existing Rebel rooftop units and delivers data to the cloud that is then aggregated and analyzed. By using intelligent gateway solution, Daikin Applied is able to focus on rapidly deploying differentiated value-added services such as real-time HVAC unit performance, remote diagnostics, monitoring and control, advanced energy management, and third party content integration services to its customers. This also helps the owner of building to increase property values when negotiated with estate realtors or property management firms.
Commonly referred to as the importance of data security and personal privacy issues, this reality is being driven by increasingly connected devices, cloud economics for computing and data, and the acceleration of big data analytics. McAfee is one of the most important partners of security. Greg Brown, vice president and CTO, Cloud and Data Center Solutions at McAfee, presented in the seminar. He highlighted McAfee Embedded Control is a security platform to maintain system integrity and block unauthorized applications and change on fixed-function, point-of-service infrastructures, including retail devices, medical devices, industrial control systems, office equipments and devices. It provides a simple, lightweight software technology to make connected devices resilient to malware infections and attacks.
Wind River Intelligent Device Platform is a firmware type product which already a standards-compliant and fully tested system. Namiq Kunimoto, vice president of APAC regions at Wind River Systems, gave his keynote speech to introduce software solutions. The platform provides device security, smart connectivity, rich network options, and device management including broad modem support and PAN, LAN, and WAN network access. This platform will integrated all the features and give the cost support to IoT system developers.
IoT focus on exploring the value of Big Data
Rick Dwyer, vice-president of sales and marketing group and general manager of worldwide embedded systems group at Intel, raised Zipcar service as another good example of innovation of IoT.
Zipcar is a brilliant good idea of "sharing" car usage via a membership organization. The founder of Zipcar was a housewife, who has the vision of appreciation the low rates, living without the hassle of car maintenance and paying for gas, parking and insurance. The idea is especially perfect fit for the requirements of students or wives living in the suburbs.
People just need to sign up online for Zipcar and went to the parking place to pick up the rented car through Internet or smart phones with membership. The rental fees are US$8 an hour or $72 a day covering gas, parking and insurance expanses. It costs you depending on how much time you use the services.
The technologies behind Zipcar services are the applications of IoT. It leverages the power of big data analysis to provide services of localization, satisfaction and customization. Reducing cost of operation and creating a loyal customer base becomes the success of Zipcar business model. Zipcar not only is highly praised by the public, but also contributes to global environmental protection.
Today, a bunch of big name IT companies step into IoT development because of emerging business opportunities and potential business model transformation. Aside from focusing on the hardware devices or sensor components, Taiwan IT and electronics manufacturers can also look at some innovative ideas from the IoT Day event and continue to extend the applications to new emerging market.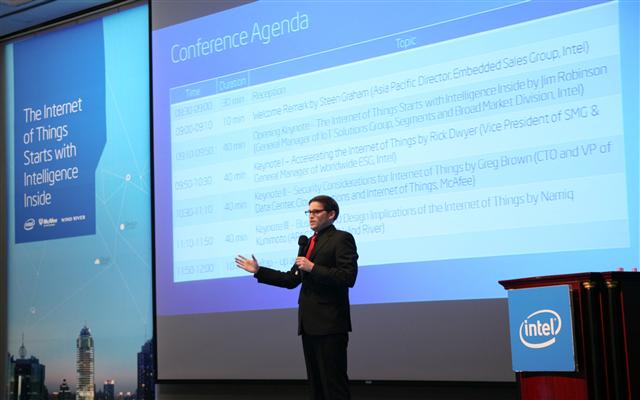 Steen Graham, Asia Pacific Director, Embedded Sales Group at Intel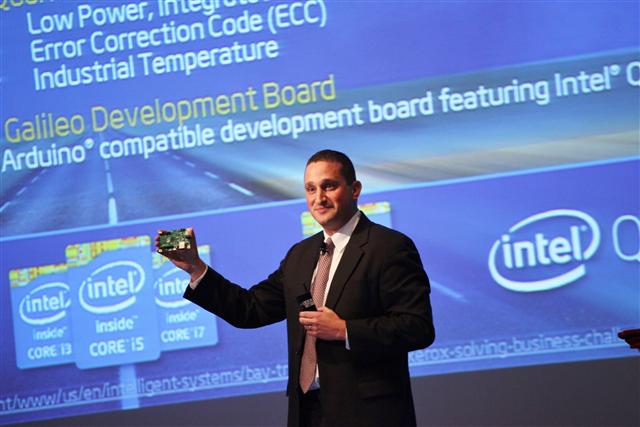 Jim Robinson, General Manager of IoT Solutions Group Segments and Broad Market Division at Intel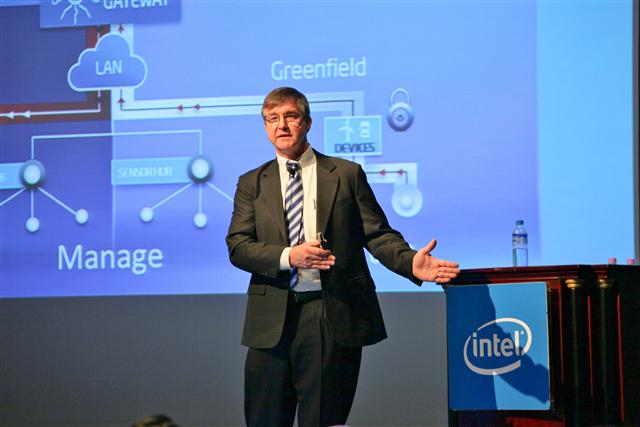 Rick Dwyer, Vice President of SMG & General Manager of Worldwide ESG at Intel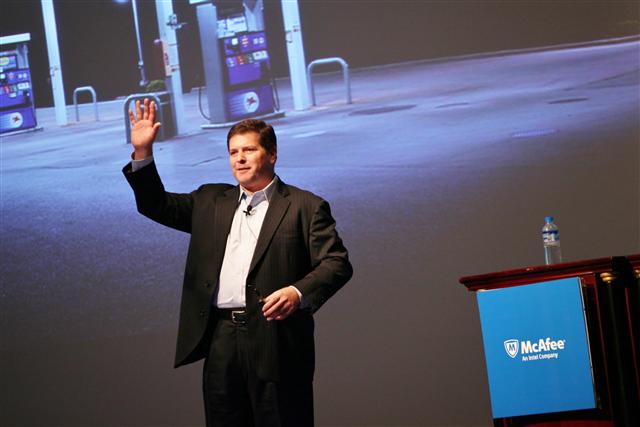 Greg Brown, Vice President and CTO, Cloud and Data Center Solutions at McAfee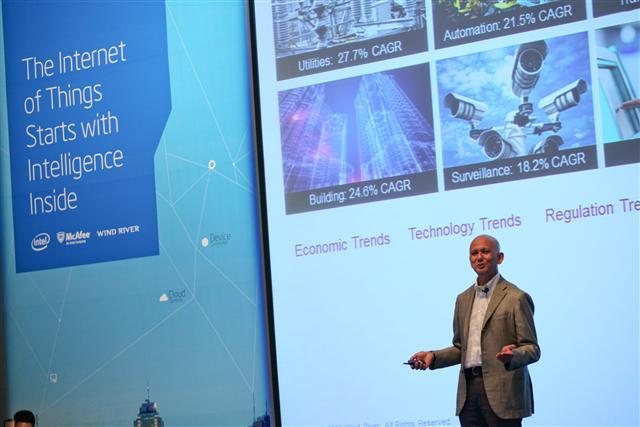 Namiq Kunimoto, Vice President of APAC regions at Wind River Systems